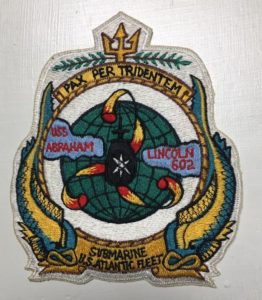 USS Abraham Lincoln (SSB(N)602)
Abraham Lincoln SSBN 602 –2020 Reunion
August 17, 2020
Shipmates:
Sadly, I must inform you that this year's reunion scheduled for October 29 th – November 1 st in Charlotte, NC has been cancelled. We waited for as long as we could before making this decision in anticipation that the current COVID-19 pandemic would subside, but that does not appear to be the direction we are headed. Ultimately, we did not want to risk the health of any shipmates or their loved ones. We are planning to reschedule the reunion here in Charlotte, NC sometime next year. We will send out a notification when the dates have been selected. For those shipmates that have paid their registration fees, I will be sending a full refund by the end of the month. The hotel manager told me he would also cancel any reservations made under the Abraham Lincoln reunion discount code at the Hilton Garden Inn.
I am looking forward to seeing you here in Charlotte sometime next year. In the meantime, I
am praying everyone remains healthy. If you have any questions or concerns, you can contact me at gcrystalSSBN602@gmail.com. Please be safe!!!
Best regards,
Greg Crystal ETN2 (SS)
(704)608-9136
CONTACTS & NEWS
President – William T. "Doc" McCance
16 Chapman Lane
Gales Ferry, CT 06335
860-464-6758
11doc@comcast.net
Vice President: George "Charlie" Brown
110 Todd Lane, Monaca, PA 15061
Phone Home: 724-775-7579
           Cell:     724-622-5800
Treasurer – Thomas D. Ponko
25596 S. 608 Rd
Grove, OK 74344
918-787-2250
ponko_a2zinc@msn.com
Secretary-George C. "doggie" Dolgos
4297 Elm Drive
Allentown, PA 18103
610-395-5472
georgedolgos@aol.com
Website Information – George Dolgos USSAbrahamLincoln@aol.com
SHIPMATES ON ETERNAL PATROL
These are the notices we received since
our last reunion.
William Jerry Anderson

John P. Bayne Captain

Jessie W. Patrick

Peter N. Shoudy LCDR

Rev. Robert Crafts Jr MD
ADM William D. Smith     Lt. While Serving 1964-1965
Captain Donald M. Miller Gold Crew.
William F Haessly  MMCM (SS) 62-67 then 69-71
Edward Burkhalter JR VADM
Rawyers IC2 (SS) Blue Crew 1973-1974
FTCS  Leroy Webb          PO
LCDR Thomas Burke
TM2    Roger Page
FTB2  Richard Dwyer
           Frank O'Donnell
ETCS Dudley Dahlquist   PO
RM2   Ronnie Standridge
CDR   Guy Duan
FTCS  Michael Bailey