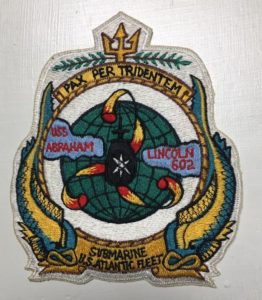 USS Abraham Lincoln (SSB(N)602)
Abraham Lincoln SSBN 602 –2020 Reunion
Where: Hilton Garden Inn – Southpark, Charlotte, NC
When: October 29, 30, 31, November 1
Attention: All Crew Members and 1 st Mates
The 2020 Abraham Lincoln SSBN 602 reunion details are taking shape. We have secured a great room rate at the Hilton Garden Inn – Southpark for our Homeport. The hotel's location provides walking access to numerous bars and restaurants as well as a high-end shopping mall. Light rail is available a short drive away that will take you uptown to other entertainment venues (e.g. NASCAR Hall of Fame, Levine Museum of the New South, Mint Museum Uptown, Discovery Place, etc.). Some other attractions a short drive away include the Billy Graham Library, the National Whitewater Center, Reed's Gold Mine and many others.
Our room rate for the entire reunion is $109 per night for a king or $119 for two queens and is guaranteed for any early arrivals or extended stays. This rate includes breakfast and free parking!!! You may make your reservation by clicking on the link below. If you are a Hilton Honors member, I found it worked best by signing into your HH account before clicking on the link.
Booking Link:
Book Here
Wednesday (10/28): Early Arrivals – Family visits & Sightseeing
Thursday (10/29): Check-In/Registration begins at 5PM, Hospitality Welcome begins at 6PM in the ballroom.
Friday (10/30): Morning Trip to Hendrick Motorsports Museum followed by lunch at the Speedway Club at Charlotte Motor Speedway. Afternoon & evening is your choice. The Hospitality Suite will be open in the ballroom
Saturday (10/31): Daytime – your choice of activities. Evening banquet will begin in the ballroom at 6PM.
Sunday (11/1): Departing Breakfast in the ballroom.
We will be conducting our traditional 'Auction' at the Banquet on Saturday evening, so donations (Photos, memorabilia, etc.) as in the past will be welcome.
The Registration Form is separate and should be completed as soon as possible.
Here is the registration form (click to open):
2020 Reunion Notice Registration.docx
If anyone has questions, don't hesitate calling me at 704-608-9136 (cell) or by email at gcrystalSSBN602@gmail.com.
2020 Reunion Coordinator -Greg Crystal
2020 Reunion at Charlotte, NC
10209 Creek Dale Lane
Charlotte, NC 28277
(704) 608-9136
CONTACTS & NEWS
President – William T. "Doc" McCance
16 Chapman Lane
Gales Ferry, CT 06335
860-464-6758
11doc@comcast.net
Vice President: George "Charlie" Brown
110 Todd Lane, Monaca, PA 15061
Phone Home: 724-775-7579
           Cell:     724-622-5800
Treasurer – Thomas D. Ponko
25596 S. 608 Rd
Grove, OK 74344
918-787-2250
ponko_a2zinc@msn.com
Secretary-George C. "doggie" Dolgos
4297 Elm Drive
Allentown, PA 18103
610-395-5472
georgedolgos@aol.com
Website Information – George Dolgos USSAbrahamLincoln@aol.com
SHIPMATES ON ETERNAL PATROL
These are the notices we received since
our last reunion.
William F Haessly  MMCM (SS) 62-67 then 69-71
Edward Burkhalter JR VADM
Rawyers IC2 (SS) Blue Crew 1973-1974
FTCS  Leroy Webb          PO
LCDR Thomas Burke
TM2    Roger Page
FTB2  Richard Dwyer
           Frank O'Donnell
ETCS Dudley Dahlquist   PO
RM2   Ronnie Standridge
CDR   Guy Duan
FTCS  Michael Bailey