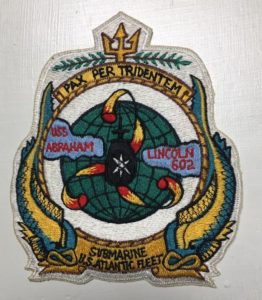 USS Abraham Lincoln (SSB(N)602)
CONTACTS & NEWS
President – William T. "Doc" McCance
16 Chapman Lane
Gales Ferry, CT 06335
860-464-6758
11doc@comcast.net
Treasurer – Thomas D. Ponko
25596 S. 608 Rd
Grove, OK 74344
918-787-2250
ponko_a2zinc@msn.com
Secretary-George C. "doggie" Dolgos
4297 Elm Drive
Allentown, PA 18103
610-395-5472
georgedolgos@aol.com
2018 Reunion Coordinator – George "Charlie Brown
110 Todd Lane, Monaca, PA 15061.
Phone, home 724-775-7579 and cell is 724-622-5800. Email GandCBrown@gmail.com .
Website Information – George Dolgos USSAbrahamLincoln@aol.com
2019 REUNION INFORMATION
Abraham Lincoln SSBN 602
2019 Reunion
Where: Sheraton Station Square Pittsburgh, PA
When: September 5, 6, 7 & 8
The 2019 Abraham Lincoln SSBN 602 reunion details are finally complete. We have secured a great room rate at a top-notch riverfront hotel located in Pittsburgh for our Homeport. The hotel's location provides easy access to multiple venues. The Rivers Casino, sightseeing, PNC Park, The famous 'Strip District' (Shopping), museums, Carnegie Science Center (Home for the USS Requin 481) and more.
Our room rate for the entire reunion is $109 per night and guaranteed for any early arrivals or extended stays. You may make your reservation by calling 1-800-325-3535 and mentioning Abraham Lincoln reunion or by using the link below.
Book your group rate for USS Abraham Lincoln 2019 Annual Reunion

Wednesday: Early Arrivals – Family visits & Sightseeing
Thursday: Check-In/Registration, Hospitality Welcome
Friday: Morning Trip to Flight 93 Memorial, Afternoon & evening is your choice (Rivers Casino, Pirates vs Cardinals at PNC Park or hang out at the Hospitality Room)
Saturday: Your choice – Strip District tour, Wigle Distillery, or Tour the Requin. Pre-Banquet river cruise on the Gateway Clipper then return
To hotel for Banquet and entertainment
Sunday: Departing Breakfast in the River Room
Several Crew members have made reservations to date and we want to have a full boat of reservations as soon as possible; therefore, we will be entering every reservation placed prior to 15 July into a lottery for a Free Night's Stay, a $109.00 value. We will be conducting our traditional 'Auction' at the Banquet on Saturday evening, so donations (Photos, memorabilia and etc.) as in the past will be welcome. This year we will have a special one of a kind item for auction. Hint: North Carolina beach vacation.
The Registration Form is located here:
https://1drv.ms/w/s!AkYtcKCF_NLagpQU0fIkfzvvrznhNQ
If anyone has questions, don't hesitate calling me at 724-622-5800 (cell) or by email at gandcbrown@gmail.com
See you soon,
George 'Charlie' Brown (68-71 Gold)
SHIPMATES ON ETERNAL PATROL
These are the notices we received since
our last reunion.
FTCS  Leroy Webb          PO
LCDR Thomas Burke
TM2    Roger Page
FTB2  Richard Dwyer
           Frank O'Donnell
ETCS Dudley Dahlquist   PO
RM2   Ronnie Standridge
CDR   Guy Duan
FTCS  Michael Bailey